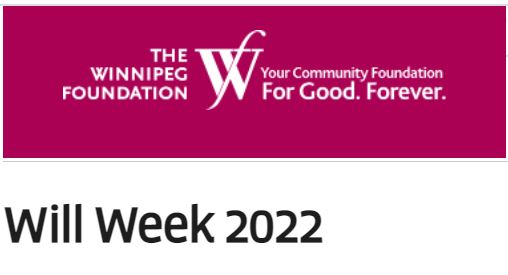 https://www.wpgfdn.org/leadership/will-week/#msdynttrid=G5q5smhJQt257ess-9cQ0CLUnuAMkj1q2P-3qIRoOro
The Winnipeg Foundation, the Manitoba Bar Association and the Public Guardian & Trustee of Manitoba collaborate to bring Manitobans Will Week.
Having a valid, up-to-date Will, Health Care Directive and Power of Attorney ensures that your wishes will be met after your death. It also provides a great opportunity to make a charitable gift to a cause that's important to you.
Will Week is a series of free public presentations on the importance of Wills and estate planning. Sessions are presented, by professionals on a volunteer basis, as a public service and are for information purposes only.
---
Will Week 2022
Seminars are free and will be presented virtually via Zoom. Please register in advance.
Tuesday, April 26 9 – 11 a.m.

Wednesday, April 27 1 – 3 p.m.

Thursday, April 28 7 – 9 p.m.
Dependents with Disabilities session – Includes additional information for family with loved ones with disabilities.
Vendredi le 29 avril 12h05 – 12h55
Ce séminaire est en français seulement.
Click here to register for a free presentation: https://www.wpgfdn.org/leadership/will-week/#msdynttrid=G5q5smhJQt257ess-9cQ0CLUnuAMkj1q2P-3qIRoOro
Will Week 2022 – Disclaimer [PDF] / Semaine du testament 2022 – Avis de non-responsabilité [PDF]
Documents from the Winnipeg Foundation on Wills:
Will_Week_-_Why_do_I_need_a_will
Thank you to our Will Week Sponsors:
Cheryl Kirshman, Credential Securities
Steven R Shinnie, Barrister and Solicitor
Sunova Credit Union, Stonewall Branch
Jaymie Deprez and Chad Deprez, Deprez & Associates Private Wealth Management