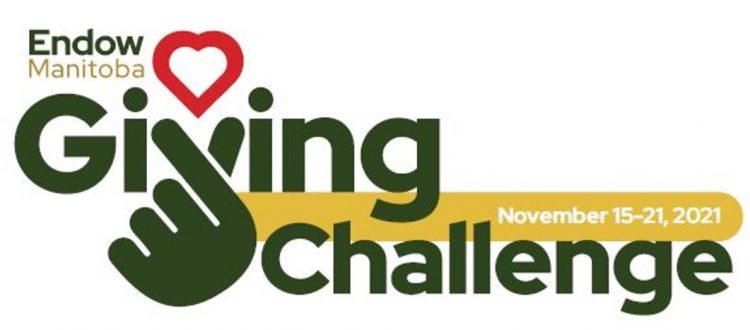 We are very pleased to announce that in November 2021, we received $70,062.65 in donations!!!
Lloyd Jensen honoured his pledge of $5000. We thank Lloyd for his generosity over the last several years in helping us grow the Endow Challenge!
Shelley Stewart AMP honoured her pledge of $1000 in matching funds for the Stephanie Oland Duncan Memorial Fund.
Endow MB and the government of MB honoured their pledges totaling $4000.
The ICF Board sincerely thanks everyone who donated. Our largest donation was $10,000 and our smallest was $10 and we are grateful for every one!
Not all the donations were directly for the Challenge, but every dollar helps our communities!
$70,000 in new donations means will will have $2800 more every year for grants and awards.
Thank you!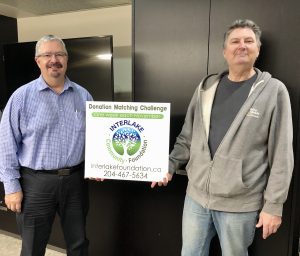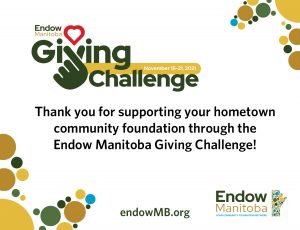 Each $10 gift is worth $19 during the Endow Manitoba
24-7 Giving Challenge Monday, Nov. 15th to Sunday, Nov. 21st, 2021
Endow Manitoba 24-7 Hour Giving Challenge https://www.endowmb.org/giving-challenge/
This year, the 24/7 Giving Challenge will run from Monday, November 15 to Sunday, November 21 . During this time period, donations to our All Communities Fund or other unrestricted funds will receive a top up from the Province of Manitoba and the Winnipeg Foundation. Please consider making a donation during this time. This link will take you to the Endow MB site to make a secure donation with your credit card. Receipts for online donations will be issued from the Winnipeg Foundation.  https://www.mycharitytools.com/gift/wpgfdn/donate?fund=254
The Winnipeg Foundation and the Province of Manitoba will stretch each $5 gift made to the Interlake Community Foundation with $1 each (that's an instant increase of 40%) to a maximum of $2000 each.
In addition, local resident Lloyd Jensen has again made a generous commitment to match all unrestricted gifts up to a maximum of $5000.00. Together, the matching dollars mean that the first $10,000 donated will actually be $19,000!
To be eligible, on-line gifts must be made between Nov 15th to 21st the foundation's unrestricted funds or All Communities Fund at https://www.mycharitytools.com/gift/wpgfdn/donate?fund=254. See below for other options. Stretching your gift means even more benefit for our communities.
Our community foundation supports all aspects of life in the RMs of Rockwood, Rosser and Woodlands and the Towns of Stonewall and Teulon, making grants to a wide variety of worthy causes – from daycares to seniors' homes, scholarships to school improvements, food banks to fitness, and more.
Our community grants are possible thanks to generous gifts from local donors such as yourself. No matter the size of your gift, your contribution will improve life here for generations to come. All donations are welcome, and those over $20 will receive a tax receipt. Click here for a printable hand out Giving-Challenge-Info-Sheet ICF 2021
To learn more, call Tracy at 204.467.5634 or email tracy@interlakefoundation.ca .
To donate:
—Visit http://www.endowmanitoba.ca/community-foundations/interlake-community-foundation/ on November 15th to 21st donate with a credit card. At this site you can also sign up for monthly or annual donations.
–Mail in a cheque payable to the Interlake Foundation, Box 1575 Stonewall MB R0C 2Z0 Click here General donation form ICF to download our donation form. Please write in the name of the fund you wish to donate to (All Communities Fund will be the default if you do not indicate otherwise.)
—E-transfer to us at info@interlakefoundation.ca  Please follow-up with an email so we can get all of the details for your tax receipt.
–call us! We can come and pick up your donation. 204.467.5634
To sum up, pooled donations reaching $10,000 will be stretched to $19,000! We can't do it without you.   Help us reach our goal and help our communities! Thank you for your anticipated support.
Our unrestricted funds that qualify for the Challenge are:
All Communities Fund
Beck Family Fund
Bel Acres Community Fund
George and Grace Willox Memorial Fund
Guttman Family Fund
Herb and Helen Kletke Fund
Lauritz and Georgina Jensen Fund
Larry & Leona Baker Fund
Nell Smith Memorial Fund
Nestor Myska Memorial Fund
Percy and Mary Durham Fund
Sexton Family Fund
Slagerman Family Fund
Stephanie Oland Duncan Memorial Fund
Stonewall Family Foods Fund
And in case you are wondering why you would donate to us? Please see our list of grants and scholarships below: